Our Latest News & Events
CPD evening on the 14th February 2014
Presentations were provided by Law Care and David Moore from Coral Leisure, Monaghan
Justine Carty, Judge Sean Mac Bride, Kevin Hickey February 2014
Dinner hosted by the Monaghan Solicitors Bar Association in honour of Judge Paul Carney January 2013
Justine Carty, Judge Paul Carney, Kevin Hickey, January 2013
CPD DAY 2013
Speakers included William Johnston, Solicitor, Arthur Cox, Dublin who spoke on "Security reviews from a banks perspective" and Identifying security defects bearing on enforceability and security remediation & Managing your undertakings.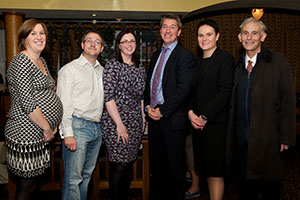 Muriel Walls, Solicitor, Mc Cann Fitzgerald, Dublin who spoke on "Civil Partnership and Certain Rights and Obligations of Cohabitants Act 2010. Civil Partnership, the registration of same, the rights that flow from it, process of dissolution, cohabitants, qualifying cohabitants & who is entitled to make a claim under the redress scheme and opting out"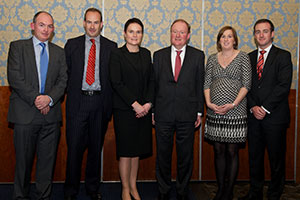 Michael Comyn, The Fearless Organisation gave a presentation on resilience Management, Defining Stress and how it affects us, The Role of Sleep in Stress Management, The Techniques of Coherence and Resilience in managing stress.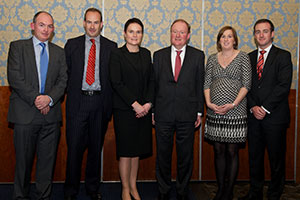 Frank Buttimer, Solicitor, Frank Buttimer & Co., Cork gave a talk on Recent Updates in Criminal Law.
Des Peelo, Peelo & Partners, Forensic Accountants gave a presentation on "Problems, Perils and Opportunities for Solicitors & Solicitors Accounts Regulations".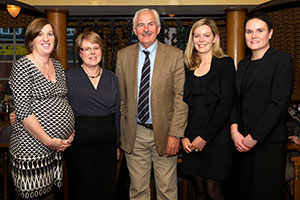 Ercus Stuart SC spoke on "Employment Laws and Regulations & Compensation on Dismissal"
D.J. Hegarty, SC gave "Updates in Family Law – Proper Provision and Full & Final Settlement" and Supreme Court Judgment G. v G., [2011] IESC 40 (2011)
The Honourable Mr. Justice Peter Kelly spoke on "Commercial Litigation with emphasis on its conduct in the Commercial Court"
CPD Evening on the 26th September 2012
Speakers included Keith O'Malley, Law Society of Ireland who gave a presentation on Business Development: Social Media &
New Technology, Marketing Professional Services, Creating an effective website.
And Sarah Hayes, Solicitor/Legal Cost Accountant who gave an An Overview of the Taxation Process focusing on the current taxation process, the appointment of the new Taxing Master in January 2012 and some of the changes that have come about as a result of his rulings, Recent Case Law in the form of Rulings given by the Taxing Master and Rulings given by the High Court on foot of review cases and finally a brief overview of the proposed changes to the Taxation Process as per the Legal Services Bill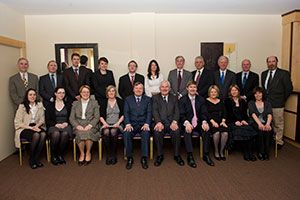 CPD Evening March 2011
CPD Day October 2011
Speakers included Constance Cassidy SC who gave a presentation on "Recent Developments in the Licensing Code: Impact on Solicitors"; Linda Kirwan, Solicitor from the Complaints & Client Relations Committee, Law Society of Ireland who spoke on "How to manage and solve complaints; Seamus Mc Grath, Chief Investigating Officer, Law Society of Ireland gave a presentation on "The Law Society perspective on Solicitors Account Regulations, the risk & critical areas, interaction between the Law Society and the reporting Accountant"; Colin Borland,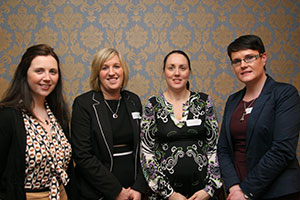 Bid Specialist & Consultant in marketing & public & private sector procurement spoke on "Tendering for public & private legal services contracts" ; Elizabeth Gormley BL Advised on the "The Multi Unit Developments Act 2011"; Evan O'Dwyer, Solicitor, Crean O'Cleirigh & O'Dwyer Solicitors spoke on "An alternative view on the prosecution & Defence of Drink Driving Offences" ; Mairead Ahern, County Registrar for Co. Louth and Joe Smyth, County Registrar for Co. Cavan gave a joint presentation on "Taxing Legal Costs, Probate Applications, Case Progression – practical advice" ; Michael Staines, Solicitor, Dublin spoke on "Advising Clients in custody & recent developments in criminal Litigation" ; Stuart Gilhooly, HJ Ward & Co Solicitors, spoke on "The state of the legal profession & The Legal Services Regulation Bill 2011" and The Honourable Mr. Justice John O'Hagan gave a presentation on Family Law – what practitioners need to know when advocating in the Circuit Court.